Special Guests
Below is a list of special guests scheduled to appear at the 2020 ComicFest!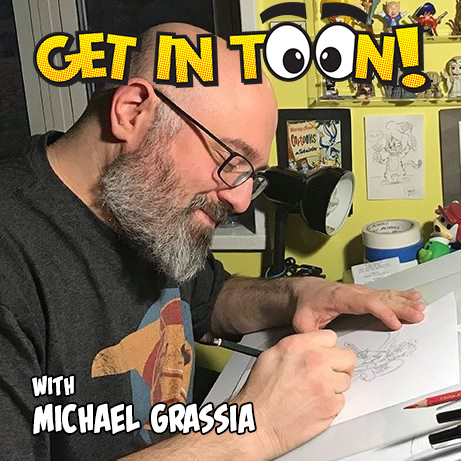 MICHAEL GRASSIA
Artist/ Illustrator
https://www.michaelgrassia.com/
https://www.getintoon.net/
Michael Grassia is a cartoonist and educator with a career spanning over two decades. He is the creator of GET IN TOON! a series of traveling workshops focusing on the art of cartooning. Michael created A SIMPLE GUIDE TO STORYTELLING, an app that teaches storytelling through the comic strip format available on iOS and android. In 2019 Michael received an award for his dedication to the arts and education. At that same ceremony, Michael was given a proclamation by the Westchester Board of Legislators proclaiming October 5th to be Michael Grassia Day is Westchester County New York. His work has appeared in comics, children's books, greeting cards, animations, video games, and more. You can follow him on instagram, twitter, and YouTube @michaelgrassia and on Facebook @getintoon.net. You too can GET IN TOON! when you visit getintoon.net, Michael's blog where he discusses the art of cartooning, storytelling and more. When not creating art Michael loves to spend time with his wife and cat.
CHRISTOPHER HART
Author - Illustrator
https://christopherhartbooks.com/
Christopher Hart is the leading author of How-To-Draw books, which cover a wide range of subjects including superheroes, manga, figure drawing, cartooning and more. He has had over 100 books published, which have sold 7 million copies and are translated into 20 languages. www.christopherhartbooks.com
WILL TORRES
Artist/ Illustrator
jcartist.org/willtorres
Will Torres is a Hispanic/American comic book artist from New Jersey. He has worked on Image Comics/Topcow Productions comic book FRESHMEN SUMMER VACATION#1 as the back-up artist, winning pin-up artist on rap legend Darryl "DMC" McDaniels hit comic book, DMC #1, contributing pin-up artist om The Official WALKING DEAD MAGAZINE #5, and now his up-coming creator-own comic books: THE SAINT OF ASSASSINS and MR VENTURE, co-created with Stan Lee. He's the founder of Vision Quest Comics.
russrainbolt.com/
Painter, muralist, and Illustrator, Russ Rainbolt, studied fine arts at New York's School of Visual Arts graduating with honors. "I worked for years as a professional billboard painter, painting advertisements at gigantic scales while balancing myself 100 feet above the ground on a rope and scaffold platform. I like the adrenaline!
Same deal with comic art. I want to capture the speed and dynamic of the figure in action! And I want it to look real."
NANCY SILBERKLEIT
Co-CEO Archie Comics
nancysilberkleit.com
riseabovesocialissues.com
Nancy Silberkleit, daughter-in-law of Louis H. Silberkleit one of the founders of Archie Comics Publications, stepped into her role as Co-CEO of the company in 2009 with a vision that the comic book as a graphic novel is a valuable tool for developing literacy among first-time readers and instilling a love of reading for everyone. As a former public school educator, homemaker and mother, she knows the importance of learning to read and coined a personal motto that "Children+Comic Books=Reading, Knowledge and Confidence. The Archie Comics line of comic books is one of the most successful, longest-running brands in the history of the comic industry. Archie Comics have sold 5.1 billion comics and are published in a dozen different foreign languages and distributed all over the world.
New York Empire Saber Guild
saberguild.org
Our mission is to share our love of Star Wars with people of all ages and to follow the Jedi path of spreading hope and good will wherever we go. We aim to bring a little bit of wonder and transport our audiences to a galaxy far, far away… Saber Guild is a non-profit, all-volunteer, international organization that specializes in lightsaber stage choreography, education, and community events. Saber Guild temples can be found in Europe, Asia, and across the US. Empire Temple is the New York chapter of Saber Guild.
microsoft.com
YES! They'll be back for all things gaming! Join the fun – try out the latest technology and games – you may win a tournament or two…!
501st Empire City Garrison
501st.com
The Legion is an all-volunteer organization formed for the express purpose of bringing together costume enthusiasts under a collective identity within which to operate. The Legion seeks to promote interest in Star Wars through the building and wearing of quality costumes, and to facilitate the use of these costumes for Star Wars-related events as well as contributions to the local community through costumed charity and volunteer work…"
hauntatrockyledge.com
We are delighted to welcome back the cast and crew of this outstanding group again this year!
Experience a full night of LIVE frightening entertainment! Westchester County's premier haunted attraction is celebrating its 10th season of terrifying scares this October in White Plains, New York!